Vanaspati Ghee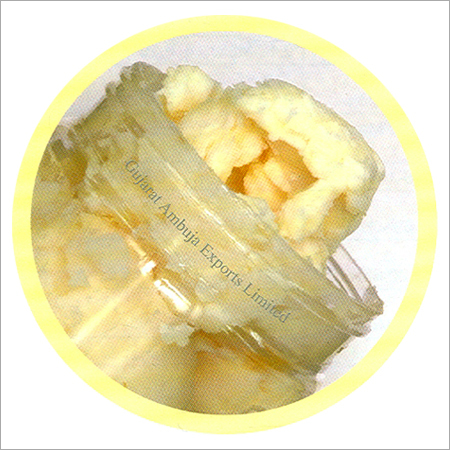 Vanaspati Ghee
As a customer oriented supplier of the industry, we are recommended for offering an excellent quality Vanaspati Ghee. This hydrogenated vegetable oil is prudently processed under the guidance of the experts at our advanced laboratory. According to the current industry standards, this ghee is formulated by using best quality vegetables. Vanaspati Ghee ( Bakery Shortening ) finds its extensive usage in the residential and commercial kitchen as a cost effective cooking solution for our widespread clients.
Features:
Longer shelf life
Pure composition
Safe to consume
Vanaspati Ghee & Bakery Shortening
| | | |
| --- | --- | --- |
| Parameters | Vanaspati Ghee | Bakery Shortening |
| FFA % (As Oleic Acid) | 0.15 % Max. | 0.15 % Max. |
| Odour / Taste | Odourless / Bland | Odourless / Bland |
| Appearance | White Granules | |
| Contamination | Free from any foreign matter | Free from any foreign matter |
| Adulteration | Free from all non edible | Free From all non edible |
| Nickel Content (ppm) | 1.5 Max | 1.5 Max |
Packing : In 5 /15 litres / Kg Tins / Jars.

Shelf Life : 1 Year
Further Details:
Before we discuss what vanaspati ghee or the vegetable fat is, we need to discuss vanapsati. In Sanskrit, Vanaspati is referred to the whole plant kingdom including flowers, seeds, herbs etc. Nevertheless, in ancient matters like Charaka Samhita, Vaisesikas and Sushruta Samhita, it is constricted to plants that bear fruits but no apparent flowers. But at prsent the term includes all about the plants.

Vanaspati ghee or vegetable fat is acquired by balanced hydrogenation of eatable liquid oils/soft oils, so that its consistency, hardness and rainy quality matches with natural ghee (processed butter). The oil is traced from the plants and are combined of triglycerides that is a glyceride that is esterified with 3 fatty acids.

Vegetable fats and oils are edible as well as inedible. Comestible vegetable fats are used as a flavor base, cooking base etc, whereas eatable fats are used in some industrial sectors considering paints, cosmetics, lubricants, pharmaceuticals, etc.

Hydrogenation Process

The chemical reaction grounded by appending hydrogen in a compound is worded as hydrogenation. It is usually done to cut down or saturate the organic compounds by adding braces of hydrogen atoms to a molecule in the existence of a activator. The removal of double-bonds by adding hydrogen substances is called saturation; as the level of saturation increases and the oil develops towards being amply hydrogenated. If unsaturation is high then the melting point of fatty acid is low.

Vegetable oil incorporates a goodish amount of organic compounds named 'Fatty Acids' consisting of various carbon atoms in a consecutive chain with oxygen and hydrogen atoms. A fatty acid is named to be saturated when each of the carbon atoms is combined with hydrogen to their brimming capacity. They are named to be unsaturated when their is a step-up of hydrogen. With a high unsaturation the low melting point of fatty acid occur.

Formulation of Vanaspati Ghee

Vegetable seeds are cleansed and bleached so as to withdraw all smells, colors, tastes and impurities. After this the liquid vegetable oil is heated to increased temperatures and an activator hydrogen is schemed through the fluid. The concoction is then filtrated to take away the metal, leaving modified and hydrogenated vegetable oil.

Uses

Vanaspati Ghee is one of the edible cooking oils, which is largely used in the world. Likewise cooking, it is also utilized in different industries to make the products like:

Perfumes
Candles
Skin Products
Soaps
Personal Care Products
Cosmetic Products, etc.